Powerful Reach Throughout the DMV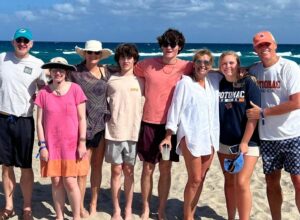 Dear Friends,
As longtime residents of AU Park, we have helped countless clients move to our beloved neighborhood over the years, and it's certainly a lot of fun to work where we live. Quite often, however, we get the opportunity to spread our wings into all parts of the DMV and beyond– putting our "powerful reach" into action in Potomac, McLean, Alexandria, and even out to the Eastern Shore of MD and Middleburg, VA! We love both the obvious and the more nuanced differences among the many neighborhoods, and we invite you to peruse our DMV Communities guide below and reach out with questions if you are considering a move this year to any part of the greater Washington D.C. area.
As you have likely seen in the news, interest rates are starting to rise. Even with these recent adjustments, the current 30-year fixed mortgage rate is still historically low. Additionally, we are happy to report the housing market remains hot. We are still seeing multiple offers on many listings. This means equity in our homes is either steady or on the rise, which is certainly welcome news. DC has always been an interesting market– often it is somewhat impervious to many of the impacts felt elsewhere in the country (which we like), and sometimes there can be huge differences from neighborhood to neighborhood or from one price range to another (which can be really tricky!). We have had a lot of experience helping clients navigate shifts in the market over the years and find it interesting to note recurring patterns and fluctuations. If you are curious about the interest rate adjustment, its impact to your plans, or any aspect of the current market, please reach out. We will talk through the options and strategize on the best way to position either a sale, purchase or both.
With spring break trips wrapping up for many of us, we are returning back to the DC area with the city in full bloom. It's such an enjoyable time of year here with so many great activities to enjoy — especially before the humidity settles in for the summer! This month we have an outdoor guide with a range of activities to consider and also an article from Sotheby's International Realty's blog with 5 incredible decks that just might spark an idea for your own backyard.
We hope that all our friends and clients who celebrate Easter and Passover had a joyful weekend! Happy spring!
Anne-Marie Finnell & Kelly Lee
p.s. For three quick days of our spring break this year, we were able to overlap and get parts of our families together for a super fun time in Delray Beach, FL. Above is a picture of us on a glorious, windy beach day.